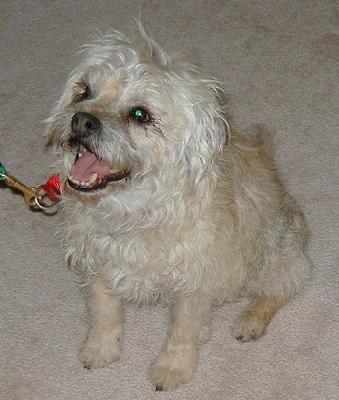 Danny in the rough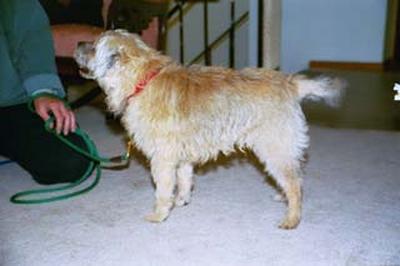 But definitely "borderish"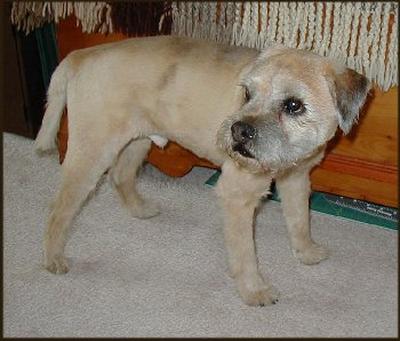 "I feel naked!"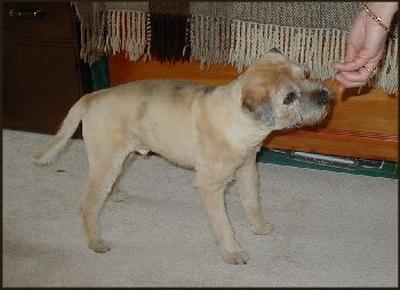 But what a difference!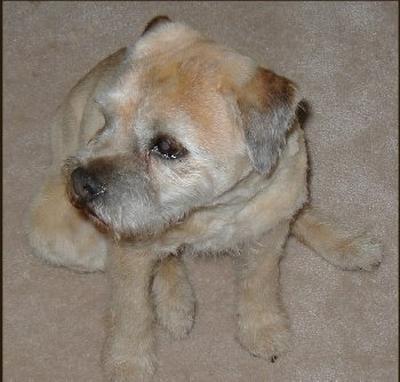 A true BT to the end.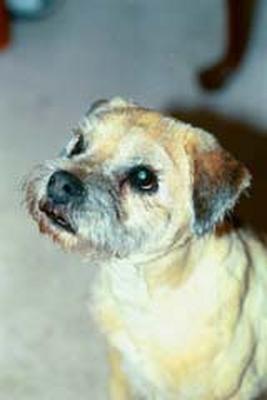 Sleep well old fella
Danny was found in the Hennepin County Humane Society, Minneapolis, MN, by someone who recognized a possible terrier mix. Kris Blake and Marcia Weber paid a visit and took some photos... and weren't certain. But Kris went back the next day, picked him up and took him to Janice Constable, who had been contacted by Marcia and had agreed to foster him.
He's been dropped off by his owners as a BT... we don't know specifically why. He was 10 yo, good with kids, okay with cats, according to his record. The shelter did some dental work on him, since he really needed it, and was already neutered. He was in the dankest, dampest and chilliest section of the shelter, in a pen of his own when Kris and Marcia, then Kris and Jan, arrived. He was on antibiotics, but still seemed "poorly". He badly needed grooming, with a long, shaggy, poverty coat.
At Jan's house, they went at him with clippers, and a lovely, if big. Border Terrier boy emerged. Kris was surprised. You can see his before and after photos on the left.
Jan took him to the vet the next day. He was found to have a significant pneumonia. There were some abnormalities in his lab work, but they could be attributed to his illness. The antibiotic was changed, and Jan was shown how to do chest physical therapy to help clear his lungs. He perked up. He'd play with his tennis ball, and cuddle, was eating well. He had a visit from his potential new owners, who are long time BT owners, and he quickly began to bond with them. Things looked hopeful. His new folks came to visit again on Monday.
Then the first of this week, he seemed weaker, his appetite faded to the point that Jan was hand-feeding. She made a vet appointment for this afternoon. By the time she left the house with him, he was very ill, indeed... Sicker than she even suspected. As she pulled into the parking lot at the clinic, she heard him draw a deep breath... and he was gone. The staff attempted to resuscitate him, to no avail.
Jan had a necropsy done. The results are already back. This lovely and loving sweet boy was "full of cancer"; lymphoma (which wouldn't have shown up in x-rays). We have no idea whether his owners were aware of this. Certainly the Humane Society wasn't.
Rest well, Danny. At least you had a warm and loving home for the last week and a half of your life, as you struggled to live, thanks to Jan and her husband.
Jo Wolf
Martinez, Georgia
---
I don't know why this fellow touched my heart as much as he did, but I am grieving for him. He had a wonderful temperament and personality. When I first saw this bundle of hair, he had a tennis ball in his mouth, and trotted over when I called his name. He would chase the ball, bring it back, tease me with it by shaking his head, or pulling gently on the ball, then drop it for me to throw it for him, and he had that spark in his eye of anticipation, just waiting for me to throw it again. He was a proud dog, carried himself with dignity, and was gentle and happy. When I picked him up from the humane society, he greeted, or rather tried to greet each dog and person in the lobby. His tail wagging and a BT smile on his face. You could tell that he was a lovely, special character
He had periods of ups and downs, and Janice had mentioned that he would take three steps forward in recovery, and then two steps back, but we did think he was on the way to full recovery. On his good days he would find his beloved tennis ball, and the spark would return to his eyes. We knew he was sick, but none of us were aware just how sick this poor dog was. Remember, it seems when these guys are the sickest, they show it the least.
Janice gave and did everything she could for Danny. He was carried up and down stairs for a time when he couldn't climb them, he was allowed to sleep on her bed, and she hand fed him when he finally refused food. One time at night, he was on the floor in their bedroom, and went up to her husband in the middle of the night and butted his head into his hand to be petted. She gave him 24/7 care from the time she got him until he passed on. Another remarkable thing, before Janice got her Border Terrier Gracie, she had never owned a dog before.
I wish to publicly thank BORDER TERRIER WELFARE. Jo Wolf has never hesitated to answer the phone or call back, when it concerned decisions or sharing information. I was very hesitant to go and spend someone one else's money, when at first I couldn't be more than 95% positive he was a Border Terrier. Many of the story's end up well with any rescue, some do not. BTW never hesitated in offering the resources to rescue Danny, and have paid all the expenses concerning his care.
Yes, the people who were going to adopt Danny were also devastated. They had begun to bond with Danny, and had visited him a couple of times, the last time was the day before he passed on. On one of their visits he gave his approval, BT style, by laying his head on the foot of one of these lovely people while they enjoyed a cup of coffee.
The response we received to a Border in need has been overwhelming and heart warming! Everyone dropped what they were doing, and answered the call. Marcia Weber went with me on a moment's notice when I first called her to tell her of the possibility of a BT at the humane society, and Janice offered her home immediately. The minute the word got out, the offers for support and help flooded my phone and the internet, I honestly didn't know we had so many wonderful people in our area, willing to step in at a moment's notice.
I don't know how many of you know this, but before Janice got Gracie, I understand she had never owned a dog before. When she saw a need she jumped right in without hesitation! She loved him, cared for him, let him sleep in their bed, stayed up at night when she was concerned about his breathing, made daily phone calls to the vet when necessary, and never gave up, and did not complain. Janice is a very special person and I am so thankful she was here to help.
Hearing of his cancer is very sad, but it also helped all of us who knew Danny to have a closure. Knowing he had love, and care his last days on earth, and the spirit of a Border terrier was evident in his daily life right up until the very end. He lived life as best he could for as long as he could, and did not complain when his body was full of this horrible disease. He was indeed a special boy.
I visited the humane society today, and told them of Danny's fate, and they too were shocked. It's not an easy job, and they do the best they can. This is a huge facility, in one of the biggest county's in Minnesota, and yet they are limited as well.
SO THANK YOU EVERYONE. I AM OVERWHELMED!
Kris Blake