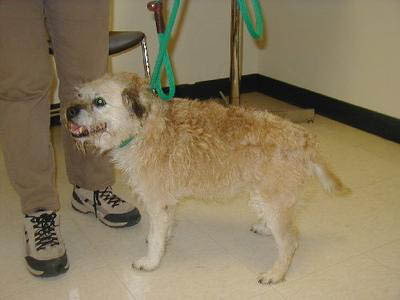 Like my stand?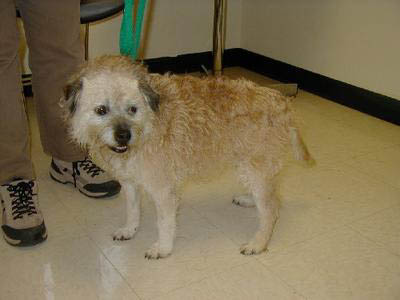 I see you're not impressed!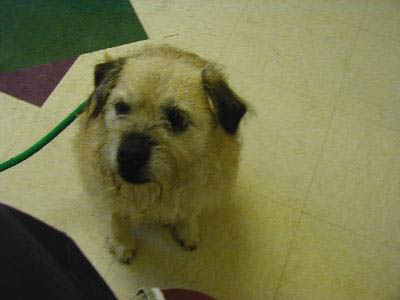 How about my sit?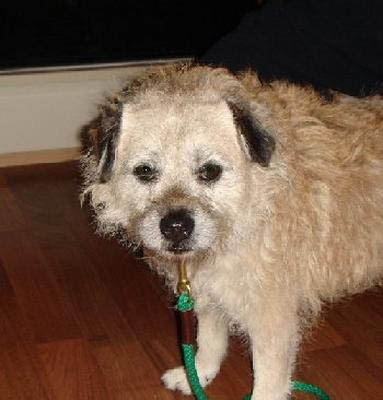 ...or big brown eyes?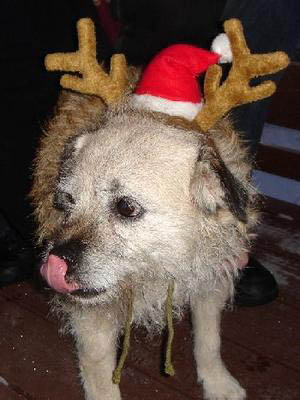 My Christams wish...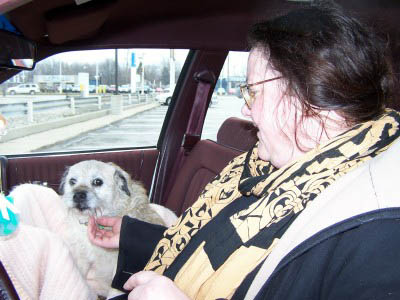 to be "going home"
Thank You!
Mandy was spotted in the Greater West Metro Humane Society, Buffalo, MN .She was identified by Janice Constable, and, in Janice's words: is definitely a Border Terrier... a very chubby BT, and will be a big girl even once she takes off the lard. She's very social, has nice manners in taking a treat, sits on command, happy and active. She doesn't have the clear dark "eyeliner" that most BTs have. Her coat is a very good and hard terrier coat.
According to the shelter write up She had been spayed and had her teeth cleaned. She needed to be maintained on thyroid pills twice day. Had apparently been owned by an older person; and they felt she would not do well with younger children... or cats. She was turned in because her owner couldn't provide the vet care.
Jo Wolf (NABTW) and I stayed in communication Mandy's situation. There were no foster homes immediately available but fortunately, Mandy was in a good shelter and not at risk, in fact she got to spend time in the front office and was quite a favourite. After several weeks, there were still no local takers for Mandy. It was time to look further afield. In April 2005, CBTW had received an application from Murrielle in Ontario, a follow up phone call and visit by one of the CBTW Ontario Reps. confirmed that Murrielle would indeed be a suitable home for a BT. Murrielle had also indicated that age, health and issues would not preclude an adoption. She was well qualified to deal with a "less than perfect" adoptee.
After a period of telephone tag, Jo (NABTW) was able to confirm that the shelter would be willing to adopt Mandy to a CBTW approved home. I contacted Murrielle, gave her Mandy's particulars and the contact information for the shelter.
We very quickly got the good news that Murrielle had been approved to adopt Mandy, now came the real challenge, getting Mandy from Buffalo, MN to Mount Brydges, Ontario - a trip of 835 miles!!
That is where the BT network team work really came into play. The call for volunteers went out just before US Thanksgiving so neither Jo or myself expected much response before the weekend. Well, within 48 hrs the arrangements were made!
Janice Constable, Kathy Van Barriger and Carol Sowders rose to the occasion, dropping plans and making others to get Mandy home.
The following is their account of Mandy's journey.
From Janice who picked Mandy up at the shelter kept her overnight and then drove her to Madison, WI to meet up with Kathy
I wanted to let everyone know that Mandy has made 40 miles of the first leg of her journey and is with me. Oh Murrielle, you're just going to love her! She's delightful! And much cuter than the pictures could show. I've made some notes about her that I wanted to be sure not to forget, so here are a few things...........

-- She rides really well in the car. She had almost jumped into the car before I could get the crate door open for her! And I didn't hear a peep out of her the whole time.

--She likes being brushed. And of course it goes without saying that she likes to have her tummy and ears rubbed.

--She's been having a great time frolicking in our fresh snow - I think she'll be very happy in Canada! (I'm teaching her to speak a little Canadian-ese; we're working on "Woof-woof, eh?") And when she's ready to come in, she absolutely bounds up the deck stairs.

--She's very comfortable being crated.

--Due to her thyroid condition she needs to go potty often. But Linda at the shelter said she's OK through the night. And she's gotten very clever about taking her pills: if they're wrapped in food she just unwraps them, eats the food and leaves the pill! So just put the pill on the back of her tongue and hold her mouth closed until she swallows.

--On my scale she weighed in at 25 pounds, so she may be closer to a regular Border size than we originally thought. She's pretty chunky, but maybe once she's in her new home and able to run around her yard she'll slim down.

--I think she'll train easily with small food treats. She already knows "sit" and has good attention.

--She's been *very* nice with my dog and has shown only mild curiosity about the cat. (I'm keeping her leashed to me for the cat's safety, Taffy can be pretty enticing!) But she has very nice dog manners and seems to be well socialized.

--She's very affectionate!! She seems to love everyone and I think once she has her own human she could turn into a "velcro" dog!

--The staff at the shelter kissed her goodbye and said they're going to miss her. One woman who wasn't there today had grown very attached to her. She bought Mandy a pretty new collar and put special treats and chews in her "going-away" bag. She wrote "Mandy - (heart) you" on the bag of food that they send along and included a reindeer hat for her to wear for Christmas! I think it was good that she wasn't there today, it would have been very hard to say goodbye
From Kathy who met Janice in Madison, WI and took Mandy home with her for the weekend.
Well, Mandy is here with us now; sorry I'm a little late reporting in, but there's a bit of interesting shopping between Madison and here... and then I had some hungry menfolk when I finally got home and had to get dinner on.

Everything Janice wrote about Mandy is true! She is a delightful little lady. I just can't believe she's been in a shelter all this time! Well, she can make up for it now... she seems to know what a kitchen is all about; stood between me and the stove the whole time I was cooking, "just in case" something fell overboard and she could do "the Border thing" and keep the floor clean, lol.

She rode very nicely in my van; never made a peep. Laid right down in the crate as if to say, "Well, this may take a while so I'll just get comfy till we get there." Was interested when I got out to run into a shop (just brief stops), but didn't make a fuss, and was lying quietly when I came out. When we got home and I opened the crate, she jumped right out (surprised me!) and I had to quickly catch her... she's quite nimble for an older gal.

She's not terribly interested in her food at this point; she's drinking water, though, chewed an ice cube and took her pill in a piece of cheese. She ate half a biscuit; Kirby snatched the other half (lol)... she stood quietly waiting to meet the other dogs. My gang was a little over-exuberant -- this being *their* territory and they're not used to canine guests -- so I've been introducing them one at a time so as not to overwhelm Mandy. So far, Kirby was ok, but Madeline tried to play Queen of the Hill, so she got whisked back into her crate. Enough stress for one day. :)

Mandy is quite the little fluff ball... someone is going to have fun grooming her. IF I can stand letting it go that long, lol.

From Kathy after meeting Carol
Well, I just returned home a short while ago from delivering Mandy to the last leg of her journey; we met Carol in New Buffalo, MI... I guess Mandy went from "Old" Buffalo, MN to "New" Buffalo, MI?? Anyway, by now I'm sure she's being "tucked in" at Carol's, and will finally meet her new mom tomorrow! Yay!

I felt bad for seemingly uprooting her again; she didn't eat while she was here until last night, when she must have felt like, "Oh, this must be my new home!" and finally gave in to the well-diluted gravy I added to her food to tempt her to eat. She's carrying plenty of extra weight so missing a few meals isn't going to hurt, but you have to wonder when a Border isn't eating... ;)

Mandy is a sweet little gal, especially given the stress she's under, having been in a shelter for the past many months and now shuffled from person to person. My family was quite tickled to find after giving her pats and loves, when we'd stand up she'd jump up and put her paws on us, and try to lift her lips and smile at us!

I'm so glad there is a rescue organization and a home waiting for dogs like this. She gave "someone" the best years of her life; she deserves to be treated well during the second half. :)
And finally from Carol who handled the last leg of the transport to Port Huron, MI
I've been home for a few hours but just got online. I think Murrielle and Mandy are a perfect match. Mandy is so easy going. Murrielle had everything ready for a cushy ride home for her new little girl. Ah...... a story with a happy ending!
Merry Christmas to all and to all a good night!!
---
Murrielle updated everyone after Mandy arrived and this is what she had to say:
I just wanted to drop everyone a last note:

When I first met Mandy, I thought she would be a little sedate doggie. Well, was I wrong! She is a flaming ball of energy! She runs through the house holding onto her tennis ball, and we chase her around – that is her favourite game. Then she lays on her back, still holding the tennis ball, waiting for tummy rubs. She even goes for a piddle with the ball in her mouth. She's so funny! She jumps up onto the furniture with little effort (that's permitted at our house) – she can jump quite high and run very quickly! She has found the dog toy box and has taken a real liking to a little stuffed cow that moos when you squeeze it. She grabs that cow and runs around the house "mooing" the whole time. I am sure that her first day here, she put on about 2 miles and lost a pound! She was so very busy playing. I am truly struck by how energetic and physically strong she is. It appears that her hips are quite good, and she can really get her speed up running in the yard.

After Mandy gets her makeover at the groomer's I will send you a couple of photos of her via e-mail.

Well folks, one last big thank you....

Thank you to Pam Dyer, Canadian Border Terrier Welfare, for telling me about Mandy, and then helping me find transport for her;

To Jo Wolf, US Coordinator for Border Terrier rescue for setting up volunteers who could transport Mandy;

To Janice Constable, for picking Mandy up at the shelter in Buffalo, Minnesota and taking her to Kathy Van Barriger (and pampering her in between);

To Kathy Van Barriger for taking Mandy to Carol Sowders (and pampering Mandy in between);

To Carol Sowders for taking Mandy the last leg of the trip through Michigan (and pampering Mandy in between);

To the folks at the Greater West Metro Humane Society, who took great care of Mandy and allowed her to be adopted out to me;

And to Mandy, for being so darn cute!

I can never thank all of you enough for this special gift - and for the way this kind effort made me feel about life in general - you have all contributed to a wonderful, meaningful experience for me.

Thank you all.

Murrielle Michaud
Isobel, CBTW's closest Rep to Murrielle did a follow up phone call and here is what she had to say
Spoke to Murrielle tonight. Everything is going smoothly. She describes Mandy as "a delight", they were prepared for some initial adjustment difficulties, but she "fit in instantly". Murrielle is amazed at how active and playful she is, she has been playing and running with the two other dogs, in particular loves to chase the big dog, who is very gentle. She has been going everywhere with Murrielle, hops in and out of the car happily and everybody who meets her falls in love with her. Murrielle's partner is also delighted with her, he likes to play with her, tosses the ball for her, which she will retrieve endlessly, and has also found that if he tosses a treat in the water dish she will dive in after it and comes up blowing bubbles - but she manages to get the treat!
Murrielle thinks she has already lost weight, no doubt due to her active life-style now, eats and sleeps well, takes her meds. without any problem. Murrielle has an appointment with the vet for tomorrow, to introduce her and pass on her records.
She is very appreciative of everybody's efforts to get Mandy to them and wanted me to pass on her thanks. She says she will send some pictures soon, so that we can see Mandy happily settled in her new home.
So, certainly no problems at this time. I told her, however that if she had any concerns at any time to contact us.
Our sincere gratitude to Jo for handling the communication with the shelter and initiating the "Rescue Railroad"; to Janice, Kathy and Carol for taking care of Mandy's transport and taking such good care of her enroute and of course to Murrielle and her partner for giving a senior girl the special home she needs and deserves.
Pam Dyer for Canadian Border Terrier Welfare