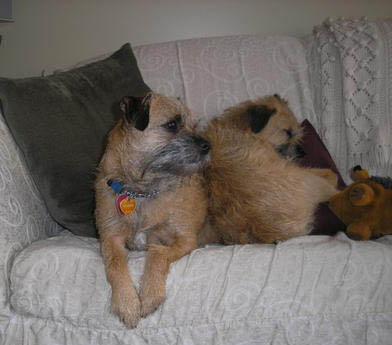 Abbey keeps watch while Oliver snoozes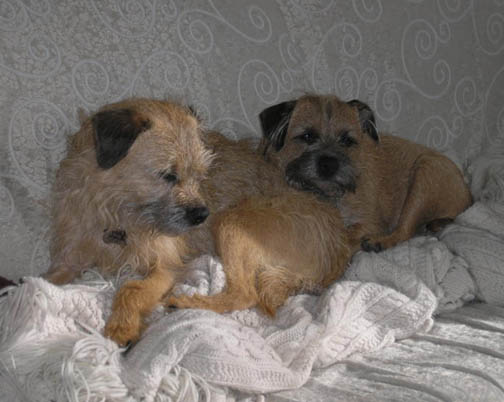 Oliver's turn but looks like he's nodding off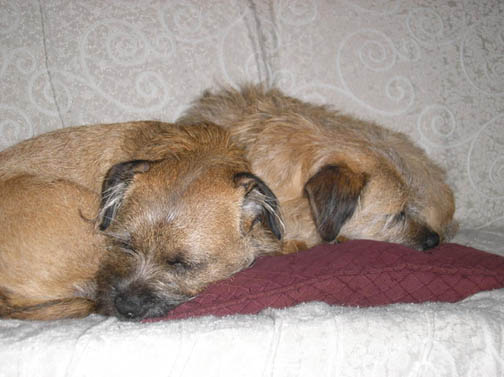 Happy, relaxed and secure - no need to be "on guard"
Oliver was a CBTW Rep assisted owner placement resulting from substantial life-style changes. He spent two weeks with Marion Miners (Alberta Rep) and family - including BT, Medrick over Christmas 2005. Their evaluation of him and objective feedback were instrumental in selecting the right home for Oliver with the Jacobs family who had previously taken in a senior rescue. (See Sophie on the "Happy Tails" page.)
Margaret Jacobs writes how they managed the challenge of bringing a second dominant BT into a home with a resident dominant BT. Our sincere thanks to Margaret for sharing this valuable and encouraging information.
Bringing Home Oliver

Welcoming a rescue dog to your home is one of the greatest experiences you can have. It can also be a little nerve-wracking! We had already experienced this once before with our Sophie. We didn't have the worry of two dogs meeting as she was the only dog in the family. She was also a very special, very relaxed Border senior. It was almost as if she showed us the way! She was only with us for 18 months before she left us but she left us with a lifetime of memories.

Adding a Border this time would be a little different. We already had an energetic 2 year old BT that pretty much ruled the house and we would be adding an equally energetic 4 year old BT that had also been number ONE!

The first obstacle to overcome was getting Oliver from Alberta to BC. With all of the help from the Border Rescue Community even that became easy. Many offers of help, a lot of different ideas and before we knew it, Oliver was on a West Jet flight to Richmond.

He arrived on January 13th and we spent the day trying not to think of the implications of flying on Friday the 13th. He arrived nervous and a little confused. Having a familiar toy and blanket really helped calm him. We had prepared the kids and asked that they let Oliver spend some time in the house before they would meet him. We also had Abbey in another part of the house so that he would not be overwhelmed. We tried to keep things as familiar for him as we could by feeding him food that was familiar and having his crate and blankets available for him. We let him explore the house and come to us for reassurance on his own terms.

We were careful to supervise the dogs first meeting. A lot of sniffing and some growling. We were quick to separate them when it started to get "serious". This was probably the hardest part of the process. Making sure that each dog felt comfortable and not threatened when both dogs were feeling nervous and stressed. This happened two times and then both dogs seemed to relax. And so did we!

There was some initial jealousy over who could sit on "Mom's" lap more and who needed more pats and cuddles but we were able to make sure that each dog felt special. With five people ready to hug and play both dogs seemed to get the attention that they needed. Out of a huge pile of toys each dog had only one toy that they really didn't like to share. After a few days they were doing everything together – sleeping, playing, going for walks.

We had been worried that Abbey would be difficult as she was quite a dominant dog, but with Oliver's arrival she has been more submissive and gives in to him. He was definitely more assertive than her. He was also better on the leash which has been a good example for her. She was a much better eater than him and this has encouraged him to eat more and to do it quickly if he wants any left in his bowl. Oliver was a reluctant eater when he arrived – he had to be encouraged to eat. If we wanted him to eat more food, one of the kids had to sit by him while he ate. Abbey on the other hand eats quickly with no leftovers! He was very curious about her raw food and would sniff at her bowl. After a few days we let him try a small taste of her food and he seemed to like it. We then began the process of switching him over to raw. He quickly made it known that he preferred the raw and is now happily eating all of his meals with no encouragement needed. He has gained some weight and his coat has improved.

We were also careful to keep the dogs separate when we couldn't supervise them. This led to a lot of howling and upset as they wanted to be together. The more they were together the calmer they were. They are now quite inseparable and become agitated if one is away from the other. We are so happy that they each have a playmate and companion to be with.

Getting used to the cat is still a work in progress. He still likes to chase the cat but doesn't do much when he is near the cat. There was barking and hissing but not much more. It is improving slowly..

Having the support of the rescue group was invaluable. Everyone was so willing to answer questions and offer suggestions. This network of support makes the rehoming process a success. We couldn't have done this without them!

A heartfelt thank you from the Jacobs Family